Dear IGGI Community:
Good news!
"Trajectory of Asian American Nonpartisanship: Transitory, Transitional or End State?," has been published online by Taylor and Francis in the journal New Political Science.
A full copy of the article is available here:
https://www.tandfonline.com/eprint/vjmhzGyuZymsg5ZGByHJ/full
Article highlights:
"Although the rhetoric of mobilization for minority communities is a centerpiece for both parties, the rapid incorporation of Asian Americans into our two-party system is still in question" (Le and Ong 2018: 1).
"This analysis considers one of the central questions in political science, that is, stability in partisan affiliation or variation in the 'unmoved mover.' We first examine trends in partisan affiliation descriptively and we subsequently model predictors of shifts in partisan identification using logistic regression models. Large proportions of Asian Americans register as No Preference; in addition, over the eight-year span of the study, they demonstrate less malleability in switching from nonpartisanship than other groups" (Le and Ong 14).
Figure 1 shows that Asian Americans have higher rates of nonpartisanship in 2004 than non-Asians. While almost half of Asian Americans are nonpartisans, the corresponding estimate for non-Asians is less than 25%.
Figure 1. Race by Party ID in 2004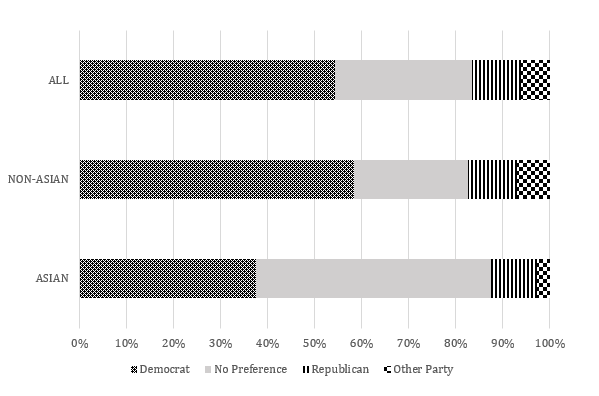 Figure 2 shows that by 2011, Asian nonpartisans ("No Preference") are much less likely to switch from their 2004 category than non-Asians. Similar to the rate of nonpartisanship, the rate of switching is almost half that for Asian Americans nonpartisans in contrast to Whites.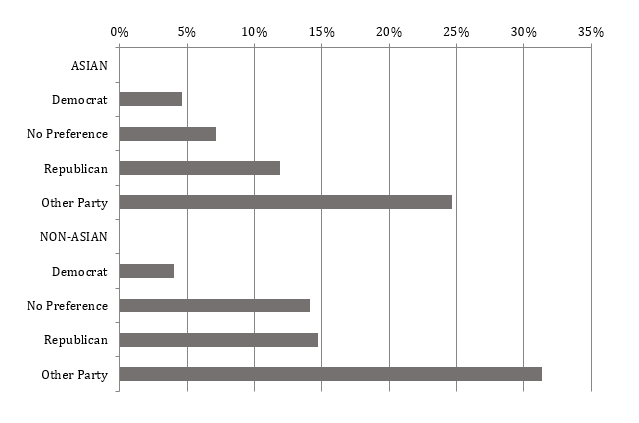 "This should be surprising to scholars in the classical assimilation school who assume that nonpartisans will be incorporated into the two-party system over time. It may be that No Preference affiliates will eventually adopt a political party—and perhaps the span of the study is too short to witness more subtle trends in that direction" (Le and Ong 14).
"More significantly, nonpartisanship as a stable state may persist because parties fail in their incorporation efforts. Low intensity outreach is one element of failed party incorporation. Another element of failed outreach and party incorporation is that political campaigns frequently are perceived as openly hostile to 

immigrants, which obviously creates a disincentive for Asian-origin immigrants and their families to develop an attachment to the party" (Le and Ong 14-15).
"This study therefore highlights that No Preference identifiers merit additional attention in the immigrant political incorporation literature and on the ground" (Le and Ong 15).
To cite this article:
Image source: Cover of New Political Science. Copyright Routledge (c) 2018